Thanks to US Family Guide and Challenger Sports for partnering with me to bring you a British Soccer Camp Promo Code. 
I'm just going to say it straight. My oldest two kids are terrible at organized sports. This is in large part because The Husband and I haven't been proactive in putting our kids in very many sessions of sports. This was in part due to a conscious decision to avoid overscheduling our kids. Now that they are getting older, however, we want them to have the sports skills to be able to enjoy sporting activities with their friends and peers.
This summer we will be putting them into British Soccer Camp. There is even a class for our little 4 year old guy who absolutely loves soccer! There is even a British Soccer Camp Promo Code that so the kids can get a free jersey, soccer ball, t-shirt, and poster! (Use Promo Code CAMP 17.)
British Soccer Camps are the most popular soccer camp in the US. With an innovative curriculum that develops skills, speed and confidence in players ages 3-18, The British Soccer Camp provide boys and girls with the rare opportunity to receive high-level soccer coaching from a team of international expert's right in the heart of their own community. In addition to teaching new skills and improving game performance, each British Soccer Camp provides lessons in character development, cultural education and is the most fun your child can have learning the sport they love!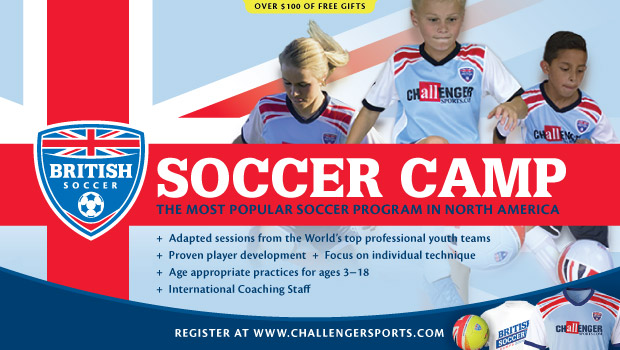 Enroll you child in a British Soccer Camp today! GET FREE SOCCER JERSEY, SOCCER BALL, T-SHIRT & POSTER!
Just use the British Soccer Camp Promo Code CAMP17.