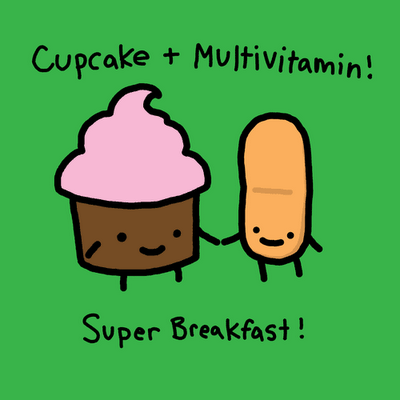 Okay…maybe not.
I'm traditionally a cereal for breakfast kind of girl.  I'll occasionally go for a bowl of oatmeal or cream of wheat, but, unless it is winter those days are few and far between.
Due to my recent rediscovery of the wonders of great tasting food (I'm pregnant. No more explanation necessary) I decided to start a new family tradition of Saturday morning breakfasts.  I know, I know, families have been doing this for centuries.  But not my family.  Nope.  I'm not much of a morning gal–not much of a night gal either, to tell you the truth.  When I was a teenager I'd tell my dad, "Don't be offended, but I don't talk before 10 am."
Just like I didn't used to talk prior to 10 am, I don't cook prior to 10 am.  With my ravenous pregnancy appetite as a motivator.  And for the sake of a great opportunity to eat delicious, healthy food as a family, that is now changing.
Something else has changed too.
I'm now seeking out healthier versions of the foods we enjoy for breakfast. Here are a few tips on healthifying your morning breakfast:
If you're a cereal eating crew look for cereals that are low in sugar.Check the grams of sugar per serving (it is also important to not the serving size as different cereals have different serving sizes).  My boys are used to eating lightly sweetened or unsweetened cereals.  They know the brightly colored cereals, cereals with marshmallows, chocolate chips, etc. are "candy cereals" that they get on special occasions like birthdays or Christmas.  Here is a great list of cereals and their nutritional content.
Eggs: Buy local, pastured, from grain fed hens when possible.  Some grocery stores even carry eggs from local farms.  When that isn't possible just get what your grocery store has.  I prefer the eggs that are higher in Omega-3.  Eggs are wonderfully healthy in moderation.
Bacon: Go for a Nitrate/Nitrite free variety like Hormel® Natural Choice® Bacont.  Now if I could just find a lower sodium Nitrate/Nitrite free bacon I'd be all set.
Grab the English Muffin over the bagel:If you're looking to cut out some calories, this is a super easy way. Try pairing your English muffin with eggs or yogurt for a bit of protein.
Try some heart-healthy oatmeal: Loaded with nutritional benefits oatmeal is more than just healthy for your heart.  Due to its high fiber, eating oatmeal in the morning will help stabilize your blood sugar. The beta-gluten in oatmeal that protects your heart can also boost your immune system.
Eating on the go? Try breakfast sandwiches or burritos for a mix of protein, carbs, and fiber.  If you like a hot breakfast, but don't have time to do the prep and eat at home try a breakfast burrito or sandwich.  An egg, bread product, and a nitrate/nitrite free meat.
Try a morning smoothie! A delicious alternative to the traditional breakfast, combine berries, bananas, yogurt and juice for a vitamin and probiotic packed breakfast.  Click here for a quick, easy smoothie recipe.
Disclosure: I wrote this post while participating in the Hormel Family Extended blogger program.  I received promotional items to facilitate the writing of this post.