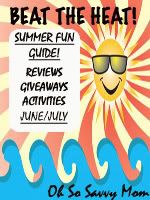 It is summertime in Utah and Apricots are in season!  We had some late winter weather and a very cool spring so our apricot tree is green but bare of fruit.  If you're lucky and got a multitude of apricots this year, or if you just happen to love apricots, here are some wonderful apricot recipe ideas from Audrey of
Tight Wad in Utah
! Check out the links for the full recipe. Enjoy!
ap  First is
Apricot Fruit Spread
.  This is a great recipe that can be kept in the freezer and enjoyed all year long. 🙂
Another great one is
Apricot Chicken.  It is SERIOUSLY one of my favorite things to eat!  If you have a lot of apricots you can make a ton of sauce, split it up into portions, and then freeze.  Then you just add it to chicken and rice.  It's also an awesome smell to have in your home. :):)
Tight Wad in Utah is a great resource for money saving shopping, online deals, giveaways.  Tight Wad in Utah also has one of the greatest compilations of low entry giveaways out there!  Head on over and check her out.