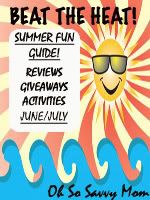 Summer is a time for kids to get outside and get dirty!  I grew up near the ocean so I made regular trips to the beach when I was a kid.  I LOVED building sand castles!  The best kind were the ones we'd make near the water so that we could channel the water into a moat and decorate the castle with wet sand.
Maukilo has taken the child-loved elements of sand and water and combines them with their
Spilling Funnel
.
You simply add sand into one area of the funnel, water into another, and then pour.  The result is loads of fun for the beach or sandbox.  My 9 year old nephew and his 5 year old sister had a blast playing with the funnel.  We had a little trouble keeping the from getting clogged however because the sand in the sandbox we were playing in is a mixture of builder's sand and sandbox sand.  The tip of the funnel is very narrow (I wish it was just a tad bigger) so the sand really needs to be the fine sandbox sand or fine beach sand.  We're resourceful so we got out a sand sifter and sifted out all the rocks and larger sand pieces.  After we did that the Maukilo Spilling Funnel worked like a dream.  My nephew commented, "Aunt Amy, this thing is awesome!!…when it's not clogged."  I had to laugh.  Yes, we were not working with the most ideal sandcastle building sand.
*Since I received the Spilling Funnel for review Maukilo has updated the funnel to include a seive.  Clogged funnel problem solved!*
The contrast in this picture isn't the greatest because the sand we were working with was damp, but here is a picture of my nephew constructing a wall.
Here are some pictures of the creations the kids can make with more ideal sandcastle sand….
I can't wait til I can get the boys to the beach to try this out!  This is going to become a regular in our repertoire of beach and sandbox toys!
Maukilo is the leading supplier of quality, timeless toys and gifts. We provide innovative, safe and eco-friendly playthings for all ages. From infant toys to

 

kids toys

,

 

they're fun, educational and last a lifetime.

Inspired by European toys and owned and operated by the German based HABA, we're your best source for

 

baby toys,

 

building blocks (from our

 

wooden toys

 

collection), educational

 

toddler toys

 

and everything in between. With Maukilo you Buy Once, Play Forever.
Buy It:
Disclosure: I was provided with the above mentioned product, at no cost to myself, in order to facilitate a review.  The opinions expressed are honest and are entirely my own.