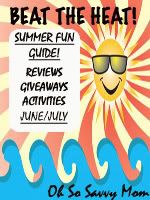 I knew that I was going to be traveling a lot this summer–already, I've flown to San Antonio and and back, and driven my kids from Utah to California twice.  What I did not know was how I was going to diaper Little Brother while we were going all these places.  Generally, I have no problem cloth diapering while I'm out and about, but when I'm out of town and staying at someone else's house, using someone else's washing machine there can be a multitude of issues that make cloth diapering on the go difficult.
One of the major factors in my decision to cloth diaper is the environmental impact of disposable diapers.  I find it a very compelling reason to use as few disposable diapers as possible.  That is why I was so excited to have a chance to give GroVia's Biosoaker Pads a go.
Before I launch into the Biosoakers, let me give you a little run down of GroVia's Hybrid diaper:
GroVia's hybrid diaper system matches our unique one-size cloth shell with either a cloth soaker pad, or a GroVia Bio Soaker pad – made with biodegradeable and compostable materials and free of the harsh chemicals and toxins found in many disposable diapering products. The perfect solution to on-the-go parenthood, travel-friendly and great for daycare, GroVia's Hybrid Diapering system gives parents options in convenience without harming our planet.
Grovia generously sent me a super cute owl print shell (diaper cover) and a pack of 50 biosoakers. The biosoakers are fragrance and dye free, and are plastic and chlorine free.  They are made with biodegradable and compostable materials.  The core is made from mostly wood pulp, but does contain some SAP gel.  I've never tried composting the diapers because I've only been using them on the go, but, according to the package, the entire biosoaker can be composted.  *If you compost them make sure any solids are removed.*
I prefer to flush them.  Though this is my preferred method, it can be very tricky and messy.  I've used well over half the pack and still have not perfected any method.  To flush you have to tear open the biosoaker and empty the core contents into the toilet.  The problem is that the contents inside don't just fall out.  I find myself wishing there was just a way to peel off the waterproof back and flush the rest.  Aside from that, the soakers are very convenient.
I already had one GroVia shell and I love it!  It has a very narrow crotch and narrow sides.  With the biosoaker inside the shell the shell will fit more like a traditional diaper.  You may find that you need to snap the rise up one setting from where your baby is like we did.  When we began using these Little Brother leaked out at night time a few nights.  I discovered that I just needed to pull the front of the biosoaker up a little higher.
I am very impressed with how much liquid the biosoaker holds.  I remember reading on GroVia's facebook page that the biosoaker holds about 4 oz more than their cloth soaker pad.  Their cloth soaker pads are my most absorbent diaper so that is saying something!
If you are looking for an on-the-go solution other than traditional cloth diapers GroVia is certainly worth checking out.  You can purchase GroVia at a multitude of cloth diaper retailers, at Gro-Via.com, and at Costco.com (if you are looking to use the biosoakers as your full-time diapering method then Costco.com is the way to go).
Disclosure: I was provided with the above-mentioned products at no cost to myself, in order to facilitate a review.  The opinions expressed are honest, and are entirely my own.