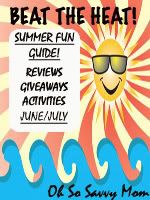 Last week I headed down to my mom's house in San Diego to help her with some much needed house purging.  The weather here is absolutely beautiful, and, thankfully pools are a common backyard amenity.  When I'm not working on the house or doing mom things the kids are easily able to convince me to take them out to the pool for a swim.   Unfortunately the ground outside the pool and the brick surrounding the pool can be scorching hot.  The brick is so hot that Big Brother refuses to step on it in order to get in the pool–instead, he insists that I carry him over.
That's where the kooli comes in.
Kooli™ is a cushioned mat that has been stylishly designed to prevent swimsuit snagging and provide comfort while sitting poolside and in other locations where swimsuits are commonly worn.

Kooli™ is great for kids, too! It protects them from hot and often rough pool deck surfaces.

Kooli™ is made of Neoprene (the lightweight, flexible material used to make wetsuits) and features a soft and comfortable nylon fabric surface. Each Kooli™ has an attached elastic band that makes it easy to roll, secure and store in a beach bag or purse.

Kooli™ is washable, waterproof, slip proof, resistant to chlorine, sand and other similar abrasive surfaces.
Because of it's simple design the Kooli can be used in a variety of ways.  Keeping buns cool is especially important for the little ones who have more sensitive skin.  If you have a pool surrounded with brick like we do then the Kooli also works as a cool pad to protect little feet at the pool entry stairs.  It also helps prevent snagging and piling.  This, seriously, would have saved many of my swimsuits when I was a kid.
At first I was kind of surprised at how thin the Kooli is, but then I realized that is what makes it so portable. it easily rolls up (or folds if you need it in shorter dimensions).
You can find Kooli on Facebook and keep up with their tweets on twitter.
Buy It:
You can purchase Kooli poolside mats for $14.95 each.  Right now Kooli is running a special blog promotion!  Buy 1 Kooli, Get 1 FREE!  Just enter the code KooliBlog at checkout.
Disclosure: I was provided with the above mentioned product, at not cost to myself, in order to facilitate a review.  The opinions expressed are honest and are entirely my own.