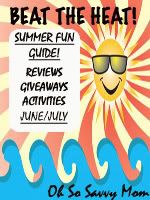 Sunbow

 

is pediatrician recommended, water resistant, hypoallergenic, paba free, and most of all kid friendly. 

Sunbow

 

has doubled the sun fun factor as each product features a kid favorite Nickelodeon character, including

 

Dora the Explorer

 

and

 

SpongeBob SquarePants

, and goes on initially in a color, guaranteeing children will enjoy application.  The child friendly, micronized Zinc Oxide formulas found in

 

Sunbow

 

sunscreens provide a strong UVA/UVB barrier without chemical actives such as Oxybenzone or Octinoxate. 


Sunbow Zinc Oxide Cream
•    SPF 30
•    Free of Oxybenzone and Octinoxate
•    Zinc Oxide Formula
•    Natural UVA and UVB Protection
•    Dora the Explorer (pink formula) and SpongeBob SquarePants (yellow formula)
•    $12.99
 Sunbow Sunscreen Spray
·         SPF 30
·         Provides a non Oxybenzoate formula with Homosalate (Organic Compound)
·         Antioxidant protection
·         Continuous hydration
·         Bubble gum fragrance
·         SpongeBob SquarePants (yellow formulas), Dora the Explorer (pink and blue formulas)
·         $9.99
Sunbow Sun Stick
•    SPF 45
•    Antioxidant protection
•    Continuous hydration
•    Bubble gum fragrance
•    SpongeBob SquarePants (yellow formula) and Dora the Explorer (pink formulas)
•    $7.99
Overall, I have been very pleased with the quality of Sunbow sunscreens.  I received some of each of the above products to try.  My favorites were the Zinc Oxide Cream and the Sunstick.  I love that the Zinc Oxide Cream provides heavy duty mineral protection, and that it gives balanced UVA/UVB protection.  Despite this the cream doesn't feel too thick and spreads in well.  


The Sunscreen stick is sooo convenient for applying to little faces (even the squirmiest of them).  It stayed on well in the water and protected Little Brother's ultra-fair skin very fair skin. It is rather small so you're not going to be using this for full body application, but for face, neck, ears, etc. it will last quite a while.  Because of its size it is very convenient to just toss in your purse for use on the go.


The spray was great too.  It has a kid friendly bubble gum scent and comes in a convenient pump spray.  The only reason that it didn't make my favorites is that you really have to wait at least 20+ minutes for this to dry before going in the water.  Because it is a spray it goes on much thinner than the others.  
I used this on my face the other day when I went swimming.  I only waited about 10 minutes before I got in the water and then played for another 5 minutes before getting my face wet.  My face didn't be burned, but it did get much rosier than the faces of my 2 little guys who used the sunscreen stick. Their faces didn't show any noticeable sun exposure.  We were outside (in the pool) for about 20 minutes.


Buy It:
You can purchase Sunbow Sunscreens from SunbowSunscreen.com and from Drugstore.com.
Disclosure: I was provided with the above mentioned products, at no charge to myself, in order to facilitate a review. All opinions expressed are honest and are entirely my own.