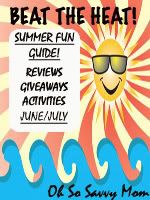 Summer time is a time for families to be on the go…if you've been keeping up with my posts then you know ours sure has been.  I've already made 2 separate 12 hour+ roadtrips and have a 20+ hour one left.  In the midst of all the road tripping we've been out and about enjoying summer activities.
This brings me to my road trip/summer preparedness tip: Healthy Snack Food! I'm big on snacking in the car on road trips–particularly when I'm the only one driving–but I hate the traditional, high fat, uber salty or sugary, highly processed snacks.  I was thrilled when SunRidge Farms contacted me about reviewing some of their snack items.
SunRidge Farms
makes wide variety of healthy snacks that are free of artificial colors, hydrogenated oils, and highly processed and refined ingredients.  That works for me!  Below are some of the yummy treats I received for review.
Milk Chocolate Rainbow Drops – An industry first that is ideal for green kids and adults who eat naturally or suffer from food dye allergies or intolerances, Rainbow Drops are the only better-for-you M&M alternative that is free of both food dye and titanium dioxide. Green as can be, these delicious new drops are colored with vegetable juice and are made with premium milk chocolate, real vanilla and pure cane sugar.
Chocolate Toffee Peanuts –A delectable mix of all natural roasted peanuts coated in sweet and crunchy buttery toffee, topped off with smooth and creamy all natural milk chocolate.
Yogurt Raisins – all natural raisins are grown on the Pacific Coast, dunked in sweet, creamy and delicious all natural SunRidge Farms yogurt. Does not contain titanium dioxide or vanillin. This confectionery favorite is plump, chewy and sweet!
Organic Mango Slices – No sugar added! Sweet, tangy and chewy. Addictively delicious. Deliciously sweet golden tropical mango, grown organically, then sliced and dried.
Dried Cranberries – both tart and sweet , SunRidge Farms' dried cranberries are great in salads, with entrees, for baking, and or straight out of the bag. A good-for-you snack, dried cranberries are loaded with antioxidants!
Tropical Mixed Fruit – great for lunches, snacks, baking and more. Transport yourself to the tropics withSunRidge Farms All Natural Mixed Tropical Fruit, which is an exotic blend of all natural dried mango, papaya, and pineapple.
I don't often do food reviews, but I was excited for this one!  Why?  I was pleased that SunRidge Farms offers not only all natural dried fruits and snacks, but that they also offer candy!  We've all got our weaknesses, right?  It is really hard to find candy that is minimally processed and is free of food dyes (I have an allergy to one of the yellow food dyes).  The Rainbow Drops have become our replacement for m&m's.  Big Brother LOVES them!
You want to know my absolute favorite out of all the snacks I tried?  If you love yogurt covered raisins you'll want to know that SunRidge Farms has the BEST I have EVER tasted!  I may or may not have eaten an entire 8oz. bag, by myself, in just over 2 days.
The dried fruit is super convenient for car trips and on the go snacking.  The bags are also small enough that you can just toss one or two into a diaper bag (or other larger size bag)!  Lastly, I love that SunRidge Farms snacks are so affordably priced!
Additional product offerings can be found at www.sunridgefarms.com.
SunRidge Farms Cares:
SunRidge Farms is a green operation in Pajaro, CA, running a bike-to-work program that pays employees $5 a day to bike to and from work, so your readers can feel good about purchasing the company's products. For some employees, the bike-to-work program pays them more than $100 a month in total. The company has also installed a solar panel roof, armed staff with clothe bags to reduce the use of plastic and paper sacks, offers recycling education classes, powers its delivery trucks on biodiesel and more.
Buy It:
You can purchase SunRidge Farms snacks at a retailer near you or you can visit SunRidgeFarms.com.
Disclosure: I was provided with the above mentioned products, at no cost to myself, in order to facilitate a review. All opinions expressed are completely honest and are entirely my own.