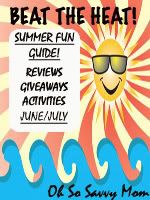 Hi everyone!  My name is Katrina (Kate for short), and Amy from Oh So Savvy gave me the wonderful opportunity of reviewing a product for her Beat the Heat event.  We were able to review the ZhuZhu Pets, Babies and the Patty Cake Preschool.  My daughter was so excited when the "box man" (UPS) showed up at our doorstep with a box full of toys.  She couldn't wait to open it up and start playing!  
I opened the ZhuZhu hamsters first. While I assembled the Patty Cake Preschool my daughter had a wonderful time chasing the hamsters around on the kitchen floor.  I could not believe how realistic they are!  One crawled right up on my toes and caught me by surprise!  We even lost them for a day.  We eventually found one in the pantry behind the garbage can.  They really scurry around!
Once I got everything put together it was time to see how it all worked.  There are two little ramps for the hamsters to crawl up.  One ramp activates the Preschool.  It made the airplane fly in circles, it activated the TV, and it made the little babies crawl around on the floor.  It was so cute!  The little babies were adorable.  They even came with a blanket to be wrapped up in and accessories like a bottle or sippy cup.  
ZhuZhu pets were created by a company named Cepia and were released in 2009.  They were a big hit immediately!  They were the must have item for all kids. In December of 2010 Cepia LLC donated 100 ZhuZhu pets to 100 bloggers so they could donate them to their charities just in time for the holidays.  Again in May 2011 they donated pets to the pediatric patients at the Phoenix Children's Hospital.  They call this their Random Acts of Zhu.  Such a great gesture that is needed in our world today!  You can check out these Random Acts of Zhu as well as get to know the Zhu's, watch music video's and play games here!
My overall opinion was I really liked this toy.  It is hours of fun.  The ZhuZhu pets were such a blast to play with.  Although I definitely think they are for ages 4+.  Also, I felt that to be able to play with the Zhu Zhu Babies you will probably need a play set for them.  You can play with the ZhuZhu's all by themselves but for the babies to be much fun you needed the play set (the hamsters and babies are sold separately from the playset).  All in all these definitely are a cute product and I would recommend it to everyone!  
The ZhuZhu Patty Cake Preschool can be purchased from your local toy retailer or on Amazon.com
for (approx.) $29.99.


Win It!

How would you like to win one!  One lucky reader will win everything we recieved!  One Patty-Cake Playset, two ZhuZhu's and two ZhuZhu babies! 
This giveaway is opened to US/CAN and will run from July 3rd to July 18th at 12:01 a.m. CT.  Good Luck!
Kate
Disclosure: I was provided the above mentioned products by the company, at no cost to myself in order for my honest opinions.