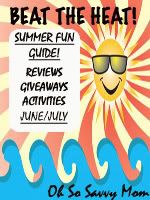 Get the kids outside having fun in the yard with Little Tikes Garden Bubble Leaf and Lawn Blower by Imperial Toys!  The Garden Bubble Leaf and Lawn Blower is the perfect toy for the kids who want to be just like mom and dad.  You've got two of kids favorite things–power tools and bubbles–combined into one toy!
Our 4 year old has had the fun chance to give this baby a whirl.  So far we've used the Bubble Blower at home and on vacation, with friends and with cousins.  It has been a hit every time.  
The Garden Bubble Leaf and Lawn Blower is made to look like a mini leaf blower.  It is super easy to use.  Simply install some batteries, pour bubbles in the hole on the top (it uses about 2/3 of an 8 oz. bubble solution), pull the trigger, and watch the bubbles fly.  The trigger makes a little whirring "motor" sound.  I thought the box (it got thrown away) said that you can turn the bubble blower on and off by pulling the little handle on the side, but I've yet to find a way to turn the bubble blower completely off.  This is the only annoyance I've found with the blower so far.  It is intuitive to pick the blower up by the handle, but every time I pick it up I end up pressing the trigger (in the handle area) causing bubbles to fly when I least expect it.
If you're looking for a bubble toy that will give you a steady stream and tons of bubbles this Little Tikes bubble blower will do the trick.  I am super impressed–and the kids are too–at how many bubbles this produces.  I haven't had any problems with leaking, though the first time the bubble blower was used the kids got so excited that the blower got a little shaken and the bubbles inside the bubble blower foamed up a bit, causing the bubble blower to dribble out bubbles instead of blowing them out.  Since then we haven't had any problems.  The bubble blower does go through bubble solution rather quickly, but replenishing the solution is a small price to pay for the fun the boys get out of this.  We'll be getting a LOT of use out of this toy this summer!
Keep up with all the latest new toys from Imperial Toy on facebook.
You can check out other great Imperial Toys for kids of all ages at ImperialToy.com.
Buy It:
You can purchase the Little Tikes Garden Bubble Leaf and Lawn Blower in store and online at various retailers.  The MSRP is $19.99.
Disclosure: I was provided with a Little Tikes Bubble Leaf and Lawn Blower by Imperial Toy, at no cost to myself, in order to facilitate a review.  The opinions expressed are honest and are entirely my own.