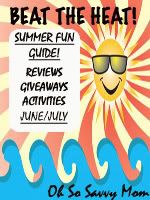 Cuts, scrapes, and full-on road rash are pretty inevitable for kids during the summer.  It's a time for the kids to hop on that new bike, try out the new scooter, run as fast as they can down that hill, and…WAIT, STOP, YOU'RE GOING TO…aw, crap!  The wailing begins.  You saw it coming.  You tried to warn them, but it was too late.
This was exactly what happened right after I told Big Brother he'd better not run downhill in his flip-flops.  Immediately after I'd warned him he crashed and burned.  He only scraped up his knees and hands but it was pretty bad.
We were on vacation in Yosemite, but thankfully I'd brought along the
Neo To Go
(neosporin) and some
Toy Story Band-Aids
that we'd been sent to review.  Those saved the day!
The Neo To Go! was super easy to use.  Just don't be a dufus like me and think you need to remove a cap or anything before using (if you do that you'll have to figure out how to put it back together again ;). After you remove the Neo To Go! spray from the packaging you simply depress the yellow button to spray.  It is super easy.  I always use neosporin to prevent kill any bacteria that may have gotten into the wound and I love that the Neo To Go is so easy and eliminates the need to rub something into the wound.  I've attached it to a loop on my purse and I now take it everywhere, just in case.
I honestly didn't understand the appeal of character Band-Aids before using the Toy Story Band-Aids for this incident.  You pay a little more than you do for regular Band-Aids and get fewer Band-Aids.  Well, after I got them on Big Brother's owies I had an "Ah, ha moment".  Big Brother was distracted by his cool Band-Aids and calmed down very quickly, and, though it didn't take away the pain of his very scraped up skin, he was proud of his Toy Story Band-Aids.  We're converted.  These will always be kept on hand for future owies.
Here's a picture immediately after the accident. Doesn't he look so tragic!
Band-Aid
Brand band-aids come in a variety of kid's favorite character prints.
In addition to the Neo To Go! spray, Neosporin also makes
Neosporin Foaming Wound Cleanser for Kids
.  To use the wound cleanser you pump it onto the wound (pump it like foam hand soap) and wipe off with sterile gauze.  This enables you to clean the wound in a completely sterile way.
You can find Band-Aid and Neosporin products at just about any grocery, drugstore, or online mass merchant under the sun.
Disclosure: I was provided with the above mentioned products by the company or pr firm, at no charge to myself, in order to facilitate a review.  The opinions expressed are honest and are entirely my own.