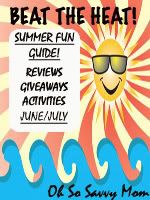 Imperial Toy is back with more great ideas for Summer fun! In my Father's Day gift guide we saw the KAOS Nemesis water balloon launcher.  Earlier this week we were introduced to the bubble madness of the Garden Bubble Leaf and Lawn Blower.  Today we get to see the Little Tikes Ultimate Beach Ball Sprinkler!  I have to say that I'm quite impressed with the quantity of quality toys made by Imperial Toy, LLC.
The award winning Little Tikes Ultimate Beach Ball (88 in.) Sprinkler easily attaches to a garden hose.
 
The thing I love most about this play sprinkler is that the spray is so gentle.  Turn the hose on with very low pressure and you get a mild, gentle spray great for the littler ones, or for those who are a little more concerned about running through a giant sprinkler that's spraying water in their face.  If you turn the water pressure up the spray is still very gentle but it shoots farther; great for larger playdates or groups of kids and for the more aquatically inclined.  Kids can double the fun by rolling the ball around spraying their friends in the faces shooting water in all different directions.
We love the Little Tikes Ultimate Beach Ball Sprinkler!  It is (finally) starting to heat up here and this has made the perfect backyard cool-off toy.  
Here is Big Brother and a friend having some fun summer times:
It's hard to see the spray in this picture but it gives you a little idea how big the ball is.
It takes me a little while to pump up the ball (I deflate it when I know we won't be using it for more than a couple days) with the hand pump we have–it's really not more than 5 minutes; I'm just a wimp.  But I do like that you can deflate it to store it.  That also makes it very portable.  I'm looking forward to taking this on our visit with my family in San Diego in July!
Buy It:
You can purchase the Ultimate Beach Ball Sprinkler for an MSRP of $12.99, but in searching I've found that people charge up to $30 for this toy.  At Walmart.com it is on sale for $10 (regularly $14.97)!
Disclosure: I received the above mentioned products, at no cost to myself, in order to facilitate a review.  The opinions are honest and are entirely my own.