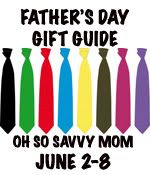 If you are looking for a Father's Day gift for that Dad in your life who's really just a kid at heart then you've got to check out the
Imperial Toy Company
KAOS Nemesis wrist launcher for water balloons!
With both Father's Day and summer fast approaching the KAOS Nemesis makes an awesome gift that dad can enjoy with the family, the kids, or with his buddies.  The idea behind the KAOS Nemesis is quite simple.  You load a balloon into the scoop part of the launcher and launch.  Using the Nemesis wrist launcher you can launch balloons over 100 feet!  The
KOAS Nemesis wrist launcher
also comes with 50 balloons and an attachment for you hose (which worked really well, by the way) so you can fill the balloons outside.
The Husband and Big Brother (who, at almost 4, is just barely strong enough to wield the Nemesis) had a fun time in the backyard trying these out.  Though Big Brother is not quite big enough to have an all out water balloon fight with one of these, he and The Husband had a great time filling their balloons and seeing how far they could launch them. Here is a still from the video I took of them playing together.
Winding up for the launch!
The Husband didn't think it launched the balloons any farther than he could actually throw them, but I think it could definitely add to the distance a kid could get them.  Besides, what dad doesn't love their gadgets? Now a word to you dads: just be careful, your water balloons can pick up some serious speed with this thing.  No punishing your children under the pretense of playing water balloons with them. 🙂
I think The Husband will have some great balloon fights with his new KAOS Nemesis water balloon launcher when his brother and the older nieces and nephews come.  Good times in the back yard.
Buy It:
You can purchase the KAOS Nemesis wrist launcher for $14.99 at many of your local retailers, including Toys R Us and Target. Click here to see a
full list of retailers
.  A pack of 150 refill water bombs is sold separately for $5.99.  Recommended age is 8+.