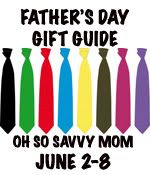 The
Memorex
Party Cube, the perfect Father's Day gift for the dad that likes to get his groove on, or simply likes to enjoy his music!
Memorex PartyCube CD is the ultimate party machine, bringing superior sound, style and functionality wherever you want to take it. Its convenient carrying handle makes it easy to set up anywhere in your home, backyard or even the beach. And its sleek, modern design looks as great as it sounds.

Multi-Directional Sound
PartyCube CD offers rich, high-quality audio that is sure to fill any space. This is due to its multi-directional sound feature, designed so the speakers wrap around PartyCube a full 360 degrees. The result is superior sound from every angle. So no matter where you place it, your music remains the life of the party.
Works with iPhone and other Devices
In addition to iPod, the unique docking station on Memorex PartyCube is also compatible with iPhone. The line-in jack also allows you to connect other MP3 players and laptops.
Top-Loading CD player and digital AM/FM Tuner with Presets
With PartyCube CD, music isn't limited to just your iPod, iPhone or other MP3 device. You can also listen to your favorite CD's through the top-loading CD player, or listen to your favorite radio stations through the built-in digital AM/FM tuner with presets.
We were very excited to have the opportunity to review the Memorex Party Cube.  It replaced this lovely beast that The Husband just couldn't let go of.  He won it selling Christmas trees one winter in high school….Nice isn't it?
Yeah, that's what I'm talkin' about…OLD SCHOOL! It takes up the whole dresser.
When I opened the box I was quite surprised at how small it was–much smaller than I expected.  The Memorex Party Cube is part of Memorex's hot, new Signature Audio Series. I love the sleek look of the rounded edges, and the black and silver of the party cube match our black and silver iPod perfectly.  The directions for set up were super easy to follow (ya basically just plug it in–can't get much simpler than that!).  
The Party Cube comes with a built-in ion lithium battery so it will hold a charge for a long time during use and also after long periods of non-use.  It also comes with a cord so you can plug it in when you're near an outlet.  Anytime the cord is plugged in it is automatically charging the battery.  I don't know if I'm behind the times, but I thought that was really cool.
The iPod/iPhone docking station on the Memorex Party cube is a little different than most docking stations in that it has an adjustable knob that extends out to support the back of the iPod.  You won't have to worry about the iPod being knocked off.
Like the description says, the speakers wrap around a full 360 degrees.  This makes the Memorex Party Cube perfect for outdoor entertaining.  The volume controls were much more precise and had a much wider range of volumes than what we were previously accustomed to.  I love that it has a CD player in the top!  I had thought about getting an iPod dock before, but it never seemed practical because we still have so many CDs that we listen to.  This was perfect for our needs.
I'd say the only thing that the Memorex Party Cube is lacking is a remote.  We haven't run into too much trouble with this as we've only used it indoors, but, if and when we do use it outside,
it would be handy to have.
If you're looking for the perfect Father's Day gift idea for the dad who loves his music, loves to entertain, or throws a killer backyard BBQ check out the Memorex Party Cube.
Buy It:
You can purchase the Memorex Party Cube
on Amazon for $149.99 (right now it's on sale for $139.07).
Disclosure: I was provided with the above mentioned product, at no cost to myself, in order to facilitate a review.  All opinions expressed are honest and are entirely my own.