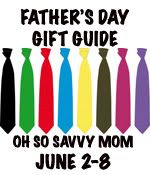 The Husband has recently begun exercising again to prepare for his upcoming military training.  He's become more conscious about what he eats…not that that's necessarily changed the fact that he enjoys shoveling down large servings of sweets on a nightly basis *love you honey*.
Essential to every dad's quest to shape up is a good bathroom scale.  That is where EatSmart comes in.  EatSmart has a line of scales designed to help us take control of our health and fitness.  They scales for the kitchen and scales for the bathroom.  We were sent the EatSmart™Precision Premium Digital Bathroom Scale.
This scale is thinner and lighter than any other scale I've seen.  Usually you have to tap a scale to wake it up first and then wait for it to zero out before you step on. This is the first scale I've ever used that you can just step right on and get your weight.  The EatSmart™Precision Premium digital scale uses 4 high-gauge, auto-calibrated, precision G sensors to ensure an accurate readout.  The scale measures up to 400 lbs. to the .2 pound.
Here is a little look at how thin the scale is.
The 4 feet of the scale are the high-gauge G sensors that read the weight.
I don't think that there is anything we don't like about our new EatSmart™Precision Premium Digital Bathroom scale.  Even the little boys love to "weigh" themselves–okay, so they are really just playing on it and watching it light up.  We've been using the scale for over a month now and it works flawlessly every time.  Even if something had gone wrong we wouldn't have had to worry.  EatSmart products come with a 100% product satisfation guarantee.
If you've got a dad in your life who is getting in shape or watching his figure *wink*, then the EatSmart™Digital Bathroom scale is the perfect Father's Day gift idea!
Buy It:
You can purchase the EatSmart Precision Premium Digital Bathroom Scale with 3.5″ LCD and "Step-On" Technology
on for only $32.95 (regular price $59.95)!
Disclosure: I was provided with the above mentioned products, by the company, at no charge to myself, in order to facilitate a review.  The opinions expressed are honest and are entirely my own.