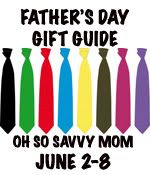 Every Man Jack
 "The idea was simple. There should be high-quality grooming stuff made just for guys that didn't cost an arm and a leg. Products that are honest and straightforward and stripped of all the things you don't need, like harsh chemicals and unbelievable promises. Guys would buy our stuff and they'd like our stuff and maybe even tell a few friends. And so we'd come up with more products. Guys would have a brand they could count on from head to toe. And it'd be time for their stuff to take its rightful place in the bathroom."
Every Man Jack makes personal care products for the guys.  Completely man-friendly, they are lightly scented with citrus, mint, cedarwood.  Every Man Jack is also dedicated to using eco-friendly ingredients.  Using ingredients like witch hazel, jojoba, chamomile, Every Man Jack ensures that your skin is clean, soothed, and that the environment is happy too.  
Every Man Jack offers a couple "starter kits"  that make excellent Father's Day gifts!  We received their Double Play Kit.  Here is what The Husband has to say about the Every Man Jack Double Play Kit:
Most of the men I know aren't really picky when it comes to hygiene products.  If it gets us clean without making us smell like a fruit or a flower then we dudes will use it.  Oh yeah, and it has to be inexpensive.  The Every Man Jack products fit these requirements and then some.  The body wash did the job and gave off a pleasant, mild scent.  I liked that I didn't have to use a lot of it to get enough lather.  It also has a grainy texture that helped scrub me down well.  The shave and after-shave lotions are unscented and left my face feeling great.  I really liked the deodorant, too.  It smelled good (not too strong).  However, it's only deodorant, not antiperspirant.  That's fine if you're trying to avoid aluminum, but not fine if you sweat like a hog.  Altogether I think the Every Man Jack product line meets my body-cleaning needs perfectly.
So there you have it.  By the way, Babe, hogs don't really sweat….Anyway here is a list of what all is included in the Double Play Kit:
Body Bar | Citrus – 4 pack
Body Wash | Citrus
Deodorant | Citrus
Face Scrub | Fragrance Free
Shave Cream | Fragrance Free
Face Lotion | Fragrance Free
Bonus: Lip Balm | SPF 15
Each of those items come in the full size!  I'll bet you can't guess how much this 7 item kit costs.  $45–nope, how about $35–still wrong.  You get all this in the Double Play Kit for only $25!  I know what I'm buying the hubs from now on.
You can purchase Every Man Jack at Target and many other retailers (it's a long list, but you can
check it out
).
Disclosure: I was provided with the above mentioned products at no cost to myself, in order to facilitate a review.  The opinions expressed are honest and are entirely my own.