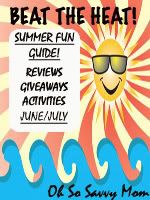 I'm so excited to be a guest on Oh So Savvy Mom!! Thanks Amy for inviting me to be here! I LOVE summer! I love everything about summer… the sun, the water, ice cream, sleeping in, crafts, sidewalk chalk, family vacations, activities, and even the heat! I'm from Arizona, so I KNOW heat! I am hosting a summer party over at Sassy Sites all summer long. So,
come by
and link up your favorite summer activities!
________________________
We've had tons of fun completing things on our list.
 Some of our favorites so far have been…
host a sleepover
go to the movies
slip and slide
help make dinner
and
stay up til midnight
(we've done this a couple of times, actually!)
Then, as we accomplish a goal, we check it off our summer list!
_____________________
Another one of my favorite things about summer is enjoying our new addition to our home. We've just created a
summer escape
in our backyard. It's perfect on
cool
hot nights and great for during the day when we can close the burlap curtains. I'm excited to buy a new hammock to add to our outdoor room!
We even spray painted the swings and gave them each a name plaque! The kids LOVE it!!
________________________
Here's to wishing you a very HAPPY and fun summer!!
XOXO!!
A little about Marni from Sassy Sites~
"I am a mom, a wife, a crafter, and vinyl maker. I love all things crafty, sassy, blingy, and BIG! My favorite thing about crafting is featuring you!"