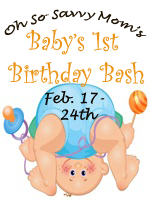 The countdown is on!  Only 3 more days until the giveaways begin!  Today is yet another sneak peak at the wonderful sponsors who are participating in Baby's 1st Birthday Bash!
The story behind BabyLegs,
In April of 2005, a young mom was confronted with a diaper rash that just wouldn't quit. The rash needed some fresh air to heal, but she was also concerned about keeping her daughter warm. In a moment of inspiration, she snipped the feet off of a pair of socks and fitted her daughter from hip to ankle with a cool set of leg warmers. These leg warmers not only kept her daughter warm, but also protected her from the elements, made diaper changing and potty training easier, and protected her soft knees while crawling. With some fun designs and some grassroots marketing support, the functional and fashionable leg warmers that began as a solution to keep little legs warm quickly became much more.
And
BabyLegs
are, indeed, much more!  BabyLegs features leg warmer collections for boys, girls and newborns.  They also carry a wide variety of adorable socks and tights (both footed and footless).  You can also choose from an assortment of styles made from organic cotton!
BabyLegs sent us an assortment of products to review.  I have loved all the items they sent us!  One of the pairs of leg warmers they sent, the Anchors leg warmers, are so cute but just a tad too small for Little Brother's chubby legs.  They tend to roll down at the top.  The other pair they sent the Handy Man leg warmers ("same" size)–pictured below–fits just perfectly
.
  Both were wonderful quality and have washed and worn well.  Little Brother can now crawl confidently on the hard kitchen floor, instead of doing that funny gorilla crawl that he does so his knees don't touch the floor.  They also make diaper changes super convenient.
Cruisin' in the "Handy Man Leg Warmers"
I have to admit that I wasn't exactly enamoured with the BabyLegs socks when I received them.  I'm kind of low profile when it comes to clothes, and most of BabyLegs socks don't exactly fit that description.  My boys have plain ol' white socks.  BabyLegs socks, like their leg warmers, are fun, colorful, and cute!  I am a changed mama!  I discovered how cute it is to have the little munchkins wearing such fun socks. Little Brother now sports his BabyLegs socks every chance I get.  I love these Jurrasic Stripe socks we were sent!  Sock sizes range from 0-12 mos. all the way up to 4T.
Jurrasic Stripe Socks
Another thing that I love about BabyLegs is their sales!  If you're a facebook fan of theirs then you know what I'm talking about.  If you're not a fan I'd highly suggest jumping on that bandwagon.  They will keep you up to date on all the latest sales which frequently include 75% off their clearance items. 
Buy It:
Visit BabyLegs website for your favorite styles!  Use code SAVVYMOM at checkout and get 20% off your order!


You can find BabyLegs on facebook at: http://www.facebook.com/babylegs
You can find BabyLegs on twitter at: http://twitter.com/BabyLegs