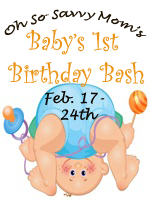 It is day two of Baby's 1st Birthday Bash, and today's sponsor is Violight.  
 
VIOlight makes a wonderful little product called the Zapi.  As babies sprout their first teeth oral hygiene comes to the forefront of parents' minds.  Before hearing of the Zapi I occasionally wondered with fleeting thought about all the germs that must be congregating on my toothbrush.  Sure some of the germs and bacteria are rinsed off, but if rinsing was all that was needed we'd ditch the soap and rinse our hands clean.  It wasn't until I heard about the Zapi and looked into it that I discovered just how filthy and contaminated our toothbrushes can be. Check out this clip from Rachel Ray.
The Zapi is super easy to use.  When you finish brushing just shake off the excess water, put your toothbrush in and push the button to turn on the light.
  "VIOlight uses a germicidal UV bulb — the same technology used in hospitals — to kill germs. A blue-violet glow lets you know the sanitizer is working. The entire process takes minutes. When finished, the bulb automatically shuts off and your toothbrush is fresh, clean, and protected for the next time you brush!"  Another plus: the UV bulb in the Zapi is a lifetime bulb!
Our toilet is in a different room than the bathroom vanity where we brush our teeth, but we store our toothbrushes all together in a cup, and I feel so much better knowing that we are not contaminating our little guy with all our germs.  I feel much safer knowing that 99.9% of the bacteria and viruses seeking refuge on our toothbrushes are eliminated by our little Zapi.  That means fewer colds, other viruses, and infections.


The Zapi also had a very unexpected benefit.  Big Brother loves being able to sanitize his toothbrush in the Zapi after he brushes that it is a great motivator for him to brush!
Buy It:
You can view and purchase a number of different UV toothbrush Sanitizers at www.violight.com.  You can purchase the Zapi for $29.95.

Disclosure: I was provided a Zapi by VIOlight at no cost to me in order to facilitate a review.  The opinions expressed are my own and are entirely honest.