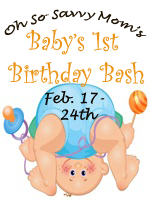 Baby's 1st Birthday Bash is just around the corner!  During the next two weeks you'll be getting a few sneak peaks into some of the wonderful prizes that will be offered!
  Without further adieu here is our first sponsor…
Purveyors of cute clothing for your hip and trendy babies and toddlers, Uncommonly Cute has an awesome selection of onesies and t's that are sure to spark smiles, compliments, and cheek pinches from strangers everywhere.
Uncommonly Cute makes designs for boys, girls, newborns, and twins with sizes running from newborn all the way up to size 6.  Here are some of my favorite designs:
 The shirts come in many different colors; I just happen to like the designs that are on the black t-shirts.  They also have some adorable sibling shirts!  And if your little ones like hats you can order a matching hat!
We ordered the "I'm huge on twitter" t-shirt in size 12-18 mos. for little brother.  Despite the fact that I am an avid "tweeter" twitter is somewhat of a joke amongst my family.  I thought the shirt would be nice and ironic.
  And it is…and so cute, too!
"Yeah, that's right. I'm huge on twitter"
Even though Little Brother never smiles for the camera he still looks super cool in his new duds (though I do realize I am a little biased). 
The shirt fits perfectly and I didn't notice any shrinkage or fading after washing. 
All of Uncommonly Cute's clothes are made of 100% combed cotton and are soooo soft–I wouldn't mind having one in my size!  Their clothes are machine washable and made in sweatshop-free studios.
You can find Uncommonly cute on:
Win it!
Uncommonly Cute is offering one of my readers their choice of onesie or t-shirt for my Baby's 1st Birthday Bash!  Grab the Birthday Bash button and put it on your blog for extra entries!  If you don't have a blog don't worry you'll get additional entries for each friend you refer that names you as their referral.
Disclosure: Uncommonly Cute provided me with a shirt for review purposes.  I was not compensated in any other way.  The opinions expressed are entirely my own.