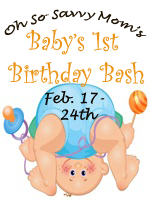 Welcome to Day 5 of Baby's 1st Birthday Bash!  Today we have a very fluffy giveaway!
I am very excited to be able to share with you a review of another extremely economically savvy diaper! 
Smartipants
make one size cloth diapers, newborn cloth diapers, one size diaper covers, and wetbags.  All of their items are very economically priced.
I forgot to specify boy color so we got pink. 🙂
I was sent a
Smartipants one size diaper
to review.  Smartipants diapers are known for a few distinct features; 1) The diapers are designed with a unique "smart sleeve" that allows the insert to agitate out of diaper in the wash.  No having to remove wet or soiled inserts with your hands.  It also allows for very easy stuffing and keeps the insert in place on even the most active toddler, 2) Smartipants are made in the USA by moms, 3) At only $14.95 per diaper (as low as $12 per diaper if you buy a large quantity) they are one of, if not
the
, lowest price "made in the USA" cloth diaper.
Here is what we thought of Smartipants:
The size is very comparable to the Bum-Genius and GoGreen one size pocket diapers I have
previously reviewed
.  The leg openings are a little larger which may not be good for babies with skinny legs.  Little Brother has fat legs so we've had no leaking out the legs, or anywhere else for that matter.  Although the insert is of comparable size, it fits a little trimmer than some of our other pocket diapers.   I think Little Brother, at almost 24 lbs, is about ready to move to the highest rise setting.
Second snap rise
Highest rise; no snaps, but a little baggier in the bum
On a side note changing my son's diaper (or putting on clothing) is like trying to change a screaming octopus.  If you could see his face in these pictures you'd know what I mean…And now back to the diaper.  The microfiber inserts that come with the diaper are one size inserts but do not have snaps so the insert can be snapped down to a smaller size.  The smart sleeve is probably tight enough that you could fold the insert and it might stay folded up, but I've not had the opportunity to try it.
The Smartipants diaper has proved very durable. We have been using our Smartipants for over a month and, after several washings, this diaper still looks the way it did when we received it.  I have heard other "Smartiparents" who have had their diapers 1-2 years who say theirs still look new.
The only thing I did not like about the Smartipants is that the way in which the leg elastic is sewn it tends to fold in at the edges so that the outer part of the diaper, instead of the microsuede, is against baby's legs.  This will not pose any problems for most babies, but Little Brother has very sensitive skin and is prone to eczema.  After wearing the Smartipants diaper overnight he had red marks on his legs that did not go away over the course of the day and, on one leg, developed into a patch of eczema.  Again, this will likely not be a problem for most babies, but if your child is very sensitive this might be something to consider. 
Disclosure: I was provided with a Smartipants diaper from Smartipants at no charge to me in order to facilitate this review.  The opinions expressed are honest and are entirely my own.