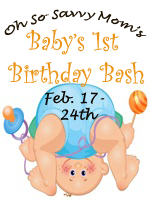 We are on Day 7 of Baby's 1st Birthday Bash which means there's only one day left!
Today
is going to be another "fluffy" day!
For those of you who know cloth diapers you might think Oh Katy is a new kid on the block.  Actually,
Oh Katy
is the new name for the former and fabulous Katydid diapers.  New name, same diapers.  I am so excited to share my review of Oh Katy diapers with you!
I started hearing rave reviews of Katydid diapers a few months back and so I "liked" them on facebook so I could
covet them
keep up with all the Katydid news until I could actually buy some.  When Katydid changed their name and their
facebook page
to Oh Katy I hopped on over and liked their new page.  It was then that I discovered that Oh Katy diapers are distributed right in my own back yard, well, not literally, of course.  Oh Katy's hail from Spanish Fork, Utah–not too far down the road.  I had all but given up on finding a cloth diapering company near me, and I was so excited to finally find one that I immediately sent Katie an email.
I decided it would be fun to pick up the diaper in person so that I could have the chance to meet the face behind the name.  I had such a wonderful visit with Katie (it is really just a happenstance that her name is the same as her diaper company)!  We had such a great time talking that I think I stayed almost an hour.  You can feel safe in knowing that you are in good hands with Oh Katy.
Now on to the diaper.  Oh Katy has a great selection of 9 vibrant colors to chose from. Each diaper comes with 2 microfiber inserts. We chose to review the Cherry Oh Katy diaper.   Instantly I loved the outer fabric of the diaper.  The fabric side of the TPU (waterproof material) is soft and has almost a silky look and feel to it.  The inside is lined with ultra soft fleece to keep baby dry.  Our Oh Katy diaper has the softest microfleece lining of any of our pocket diapers.
The Oh Katy diaper has a patented front opening pocket design lays flat and keeps the insert secure.  With the front pocket design you can remove inserts without getting your hands dirty.
I said before that Oh Katy was a new name for the same Katydid diaper.  Well, that is mostly true.  Oh Katy has made a couple improvements recently.  The leg gussets are now very stretchy (though not overly so) and are sewn to ensure that the leg gussets do not turn inward and irritate baby's skin.  The back elastic is also very stretchy.
What we think of Oh Katy:
I have only good things to say about this diaper.  I absolutely love it and even Little Brother's bum approves of it.  As I said before, I love the silky look and the super soft microfleece lining.  The inserts are a little narrower than our brands, but it hasn't made any sort of noticeable difference with absorbency.  I think it cuts down on some of the bulk up front.  Little Brother is not a heavy night time wetter and can go overnight with just a regular insert.  We have never had leaks from our Oh Katy. Okay, I lied, there is one thing that I don't absolutely love about the diaper, and that is that you have to remove the insert before washing.  I have been able to get away with leaving the inserts in with the rest of my pocket diapers (even the ones that say to remove the insert), but they always agitate out in the wash.  The patented lay-flat front opening makes it impossible for the insert to agitate out in the wash.  For those of you who follow directions and remove your inserts this bitty dislike won't make any difference to you. *Update–Oh Katy said that if you fold the front flap inside out before putting the diaper in the washer. You're still not touching the insert but you're opening up the pocket to allow the insert to be agitated out in the washer.*  Great tip!
The Oh Katy diaper is a little smaller than some of our other one size diapers, but I prefer this because it makes the diaper less poofy. Because the leg openings are so stretchy the diaper stretches up to be almost as tall as the BG.  I didn't stretch it for the picture.  The newborn setting looks like it would actually fit a newborn.  Oh, and Oh Katy also has a one-of-a-kind newborn hip snap to prevent "wing droop".  Cool.
Great fit!
Very trim!
My favorite features of the Oh Katy are the super soft lining and the stretchy leg elastic.  These have never given Little Brother any leg irritation, hurray!
Buy It:
Disclosure: I was provided with a diaper by Oh Katy in order to facilitate the review.  I was compensated in no other way.  The opinions expressed are honest and entirely my own.