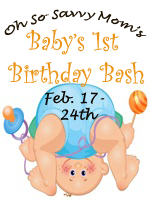 It's day 6 of Baby's 1st Birthday Bash! I am so excited to tell you about what I have up for review today!
I recently had the opportunity to try out the
Baby Nari Hip Hugger
. The Baby Nari Hip Hugger is a wonderful, functional new product that recently debuted at the 2010 ABC Kids Expo. The Hip Hugger is a baby carrier designed to allow you to carry your child without the tremendous strain to your arms and back. The Baby Nari Hip Hugger has two different styles. The
infant style
is for babies who can sit up up to 22 lbs. The
toddler style
is recommended for infants and toddlers 22 lbs up to 36 months or 40 lbs. The seat on the toddler style is tilted up at an angle to help compensate for the child's weight so you can keep your body straight.
I am in LOVE with the Baby Nari Hip Hugger! Little Brother is a 24 pound chubba-lub and carrying him around for any extended period of time is not fun–though I do have a very nice left bicep. Although we use our stroller a lot there are occasions where the stroller is simply not practical. We live in a neighborhood where we can walk to a lot of the places we go. As the weather begins to warm up we will be making almost daily trips to the park only a couple blocks away. Little brother is just starting to walk and will soon be wanting more independence than a stroller can offer. Carrying Little brother on the (toddler style) Hip Hugger is the perfect solution. I can carry him to the park without feeling like my arm is going to fall off, and then lift him up and down to be carried or to play as needed.
Baby Nari Hip Hugger the Mom way…
Baby Nari Hip Hugger the Dad way.
When I first began using the Baby Nari Hip Hugger it took a few tries and adjustments before it was comfortable. I am thin and have always had bony hips. I found that I have to wear the hip hugger on the front of my hip in order for it to be comfortable. The Husband likes to wear it on the side of his body. Also, I found that when I fastened the Hip Hugger so it was comfortably tight it made for much more comfortable babywearing. The Hip Hugger has a convenient large pocket and a few smaller ones which are great for snacks, camera, diapers, cell phone, or anything else you might possibly need on an outing.
We recently took a trip to the children's museum in Salt Lake City…on a Saturday. I'm really glad we brought our Hip Hugger because there is no way we'd have been able to navigate a stroller through there. The Hip Hugger was sooo convenient. I loved that we could put Little Brother on the Hip Hugger when he wanted to be held, and lift him off with such ease when he was ready to play. There are no straps and such to hassle with! Our Baby Nari Hip Hugger is going to get a LOT of mileage over the years!
Buy It:
You can purchase the infant Hip Hugger at
BabyNari.com
for $59.99 and the toddler style for $79.99. However, out of sheer awesomeness, John, the owner of Baby Nari, is giving my readers an exclusive Promo Code!!! Enter the code OHSOSAVVYMOM20 at checkout and receive
$20 off
your order!!! Now that's a deal!
Win It!
Baby Nari is offering one of my readers their own Baby Nari Hip Hugger!
Here are the rules:

*Please leave a separate comment for each entry so if it says 2 entries please leave 2 comments. If your email address is not visible in your profile, or if you do not have a blogger profile please leave your email address in a form similar to amy at ohsosavvymom dot com (this will reduce spam).*
Mandatory Entry (must be done before the extra entries):
1. Follow via GFC and visit
Baby Nari
and tell me one thing you like about the Hip Hugger. (1 entry)
Extra Entries (after the mandatory entry has been completed): If you already do these things that counts too! I have included many different ways of entry in hopes to give everyone a chance. You may do as many or as few as you'd like.

2. Subscribe to Oh So Savvy Mom by email. You must confirm your subscription. (1 entry)
3. Like Oh So Savvy Mom on
facebook
. Please leave your facebook name–first name & last initial (2 entries)
4. Like Baby Nari on facebook. Please leave your facebook name–first name & last initial (2 entries)
5. Follow me on
twitter
(be sure to leave your twitter name), and tweet the following (1 entry):
Enter to #win a Baby Nari Hip Hugger (ARV $79.99) from @Ohsosavvymom ! http://bit.ly/hvguYO Ends 3/8 #giveaway #babywearing
May be tweeted 1x per day for an additional entry each day.
6. Refer a friend to enter. In order for this to be a valid entry your friend must enter (make a comment) and let me know that you referred them. You must then come back and leave a comment stating that you referred that person. (2 entries per referral)
7. Put my Baby's 1st Birthday Bash button on your blog sidebar. Leave me the link. (3 entries)
8. Enter any of my other giveaways. (1 entry for each additional giveaway entered)
9. Enter this giveaway into a giveaway linky<—click or use your own fav. linkies. If you've never entered one before it is very simple. Enter: "Baby Nari Hip Hugger Ends 3/8" in the Blog title area then copy and paste this post's URL. Please leave me the link to the page where you entered it. (3 entries per linky)
Giveaway is open to residents of US and Canada and will end 3/8/11 at 11:59 MST. Winner will be chosen via Random.org, will be notified by email, and will have 48 hours to respond or a new winner will be chosen.