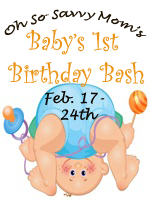 Starting at 5 1/2 months old Little Brother sprouted his first 8 teeth in just 2 1/2 months time.  It was miserable!  He was miserable!  He cried all the time and was so drooly that he had to wear a bib all the time.  He chewed on everything–sometimes viciously.  Needless to say I was a little scared for for the 1 year molars to come in.  I couldn't imagine how we'd handle it.  Well, guess what.  I saw the first little bit of molar peeking through his gums today.  I had no idea we were quite to that point yet!  There has been no drooling, no vicious cramming things into his mouth, and no extreme fussiness.  Even Big Brother, who teethed on his first baby teeth so stealthily that I didn't even know he was teething until a day before his teeth came in, had a number of fussy days and nights before the pesky 1 year molars finally broke through the gums.
So, what has made the difference? 3 words– Inspired By Finn.
Inspired By Finn
sells Baltic Amber Jewelry.  Until about 6 months ago I had never heard of
Amber Teething Necklaces
or their properties.  When I heard the claims that a little amber necklace can provide pain relief and reduce inflammation from teething I was more than just a little skeptical, however as I researched Baltic amber and it's properties I became intrigued.  Here is a little introduction to Baltic Amber from
Inspired By Finn's website
:
When baltic amber is worn on the skin, the skin's warmth releases trace amounts of healing oils from the amber. These oils contain succinic acid and are absorbed into the skin.

Baltic Amber has some of the highest concentrations of Succinic Acid found in nature, and this is what makes it so special. Succinic Acid is a natural component of plant and animal tissues, and it's presence in the human body is beneficial in many ways.

How can baltic amber help us?

Baltic amber contains analgesic properties and helps take the edge off of many types of discomfort associated with dental issues, headaches, joint pain, etc.


Strengthens the body's immune system

–

In many different and subtle ways, succinic acid helps boost the body's own natural healing ability and immune system.

The human body naturally produces succinic acid. The salt of succinic acid (succinate) is one of the most active substances in the processes of cellular respiration and intercellular energy creation. Succinic acid restores oxygen and energy supply to depleted cells and helps the body return to a normal, functioning state.

Succinate is a raw material and a catalyst in the Krebs Cycle which is one of our main sources of energy. During the Krebs Cycle carbohydrates, fats, and proteins are metabolized for energy.

When the human body reacts to stress, the body's cells begin to use oxygen more quickly. Oxygen plays a central role in the intercellular creation of energy, and a lack of oxygen can result in feeling lethargic.

Oxygen is alkaline-forming in the blood and maintaining a slightly alkaline blood ph helps keep us healthy. Whenever the body functions in a state of low oxygen, it is much more susceptible to illness.

To help break a cycle of (chronic) inflammation

–

Where chronic inflammation is present, disease lurks.

When the body's cells are chronically inflamed the human body's immune system response is to increase production of free radicals. Chronic overproduction of free radicals results in inflammatory-related disease. Chronic inflammation is a common denominator of many seemingly unrelated diseases.
With this in mind then you can see why Baltic Amber would be a popular choice of  parents with teething babies.  Right about now I can hear you asking, "Just how are they supposed to be used?"
Necklaces are supposed to be worn against the skin (under clothing).  When purchasing one for a baby you'll to make sure the necklace is short enough that the baby can't get it into their mouth.  Our necklace stretched out a good 1/2 inch to 1 inch after a few days of wearing so keep that in mind too. Babies are not supposed to chew on the necklace.  The amber is supposed to be worn 24 hours a day so at night you simply unfasten the necklace from the neck and put it around the ankle (we put a sock over Little Brother's to keep it secure); he wears footed pj's so he can't get it off.
Little Brother's necklace is a little long.  We ordered the 12-13″. Next time I'll order the 11-12″.
Little Brother started wearing the necklace 4 weeks ago, starting when I noticed he was drooling like a maniac again.  About a day and a half after I put the necklace on he stopped saturating his shirts with slobber.  Though his gums have become quite wide and you can feel the molars underneath we haven't heard any pain complaints.  We'll see if anything changes once the teeth start pushing through his gums.
Looking so cute…as usual.
Now, if you've followed my blog for very long then you know that I like to research things and have sources to back up my info.  Well, you can google amber teething necklaces and succinic acid and you'll find all sorts of stuff, but what you won't find is any research to back these necklaces up.  What you will find are tons of testimonials from moms who have used these and absolutely loved the result.   I'd have to agree with those moms.  Seriously, my baby's personality didn't change over the last few months.  We've been through enough with Little Brother to know when he is irritated or uncomfortable–he usually notifies us very vocally–and thus far he's been nothing but content to let these molars take up residence.  (By the way if you find or know of any published research please email me or let me know in a comment.)
Buy It:
You can find a variety of sizes and styles of Baltic Amber jewelry at
Inspired By Finn
including
Adult sizes
.  If you'd rather your baby not wear a necklace they also have a fully adjustable 9″
youth anklet
option that fits from infancy up to (possibly) adulthood.
You can receive 20% off your purchase at Inspired By Finn by liking their facebook page and sharing it with your friends!
*Remember you can receive EXTRA ENTRIES for Baby's 1st Birthday Bash by grabbing the Baby's 1st Birthday Bash Button and by telling your friends about it!*
Disclosure: I was provided with a product by Inspired By Finn to review.  The opinions expressed are entirely my own.