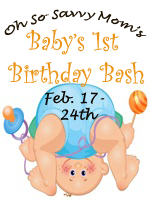 Welcome to Day 3 of Baby's 1st Birthday Bash!
Today I wanted to share with you a toy company I recently discovered.  This company stands out amongst it's competition by making their toys and other products out of recycled milk cartons!  How awesome is that?!
Here are some things I love about
Green Toys
(from the green toys website):
Made in California, USA:
Less Transportation, Less Energy


All Green Toys products are 100% made in the USA. To be more specific, they are produced in California, a state known for strict toy safety and environmental laws.

It's cool to buy USA, but also think about this: transportation is one of the biggest contributors to greenhouse gasses. We all know driving less is good for mother nature, but did you ever think about how many miles a toy logs before it ends up in your local store?
Start Simple: Recycled Plastic Milk Jugs


We use recycled milk containers as the main ingredient in creating our toys. Yes, the exact plastic milk jugs that you and your family drink from every day. When you finish your milk and toss the container in the recycling bin, these milk containers are collected at your curb by a local recycling company, who then sorts them from all the other types of plastic. Next, the milk containers are reprocessed into super clean fresh plastic. For you plastic geeks, the plastic material we use is called high-density polyethylene (or HDPE). This material is considered one of the safest, cleanest plastics around.
Other great things about Green Toys? All Green Toys are BPA free and adhere to strict safety regulations.  And every pound of recycled milk jugs used to make Green Toys saves enough electricity (when compared with non-recycled plastic) to power a laptop for 1 month!
Often times I will find a great, eco-friendly product only to be disappointed about how expensive it is compared with a non-eco-friendly counterpart.  This is not the case with Green Toys.  All of Green Toy's products are very competitively priced and quite affordable.  Take this cute
Tugboat
, which retails for $12.99, as an example.  Most plastic children's toys are relatively inexpensive but also extremely flimsy.  When I pulled the boat out of the packaging I was surprised by how light it was.  Upon further inspection I was very impressed with how well it was constructed and how sturdy it is.  We had this boat for about a month now and it has been thrown (courtesy of Little Brother) against various bathroom surfaces and has yet to show any signs of damage.  And the boys love playing with it!  Little Brother, who previously did not like getting his face wet in the bath, loves it when I use the tugboat to pour water on his head.
The boat has a little spout on the front where water pours out! My kids love it!
Green Toys also sent us some items from their
baby feeding
line.  My husband's noted that the feeding bowls are really sturdy, unlike our other baby feeding bowls.  They are the perfect size for Big Brother's snacks and for Little Brother's baby food.
Big Brother munchin on some blueberries
The
spoons and forks
are the perfect width at the feeding end for toddlers.  The forks are rounded so that they can be used to pierce or scoop food.   The handles could stand to be a little bit wider for babies who are learning to use utensils.  The spoon handles are also a little short, and I found it slightly awkward to use when compared with longer handled spoons. We don't use them for this, but all of the items in the baby feeding line would also be perfect for play kitchen sets!
The placement of my hand between the camera lens and bowl make the bowl look smaller than it actually is.!
Overall I am extremely happy with Green Toys products and will be purchasing more from both their feeding and their toy lines!
Buy It:
You can find Green Toys products on their website or on Amazon.com
(where they are often on sale!)
Disclosure: I was provided with products from Green Toys at no cost to me in order to facilitate the review.  The opinions expressed are honest and are entirely my own.