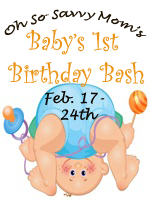 It's Baby's 1st Birthday Bash Day 4!
Today, if you haven't already heard of them I'd like to introduce you to Bummas, the eco-friendly cloth baby wipe!
Here is a little about how
Bummas
was born:
The creation of Bummas came about when we had our first baby boy. When your first arrives, you are given all kinds of advice:
"Use the wet commercial wipes, don't use the wet commercial wipes, use gauze; use whatever is handy to block the pee; use another diaper to block the pee; don't use that, use this; use powder to dry them off, don't use powder-it contains talc and studies have linked talc to cancer."
The one thing that was never mentioned was how to dry our little guy's "stuff" off after the clean up. Our baby's bum was just way too wet to put a diaper back on–and blowing down there until you're blue in the face just wasn't working. Thus Bummas were born. A soft absorbent, luxurious baby cloth to soak up all the wetness.
As many of you know, I cloth diaper Little Brother.  Although we started cloth diapering him when he was about a month old we didn't switch to cloth wipes until just a few months ago.  We had a huge stash left over from when Big Brother was in diapers that I wanted to use up.  Little Brother has extremely sensitive skin (the boy is allergic to everything!) and I found out that using commercial baby wipes (particularly ones with alcohol) can be very rough on baby's sensitive skin.  I switched to cloth and was amazed at the decrease in the redness of his poor little bum.
Ever since finding out about Bummas I have been very interested in trying them.  They look very simple, like something anyone with a sewing machine can come up with, but I dare the average person to find something as soft.  On one side is a terry loop and on the other side is a cotton terry velour.  I can't tell you how soft it is!
The velour side.  Too bad you can't feel a picture.
The terry loop side
I have to tell you that I was a little disappointed upon taking them out of the package and seeing how small they were (they are 5 x 7).  They were much smaller than my current cloth wipes.  I decided there was no way I was going to get the baby's bum clean with one of these little guys.  I decided to use them instead for after mealtime cleanups.  I folded them so they'd pop up and put them in a wet wipe box.
The wipe behind is the size of a commercial baby wipe.
Perfect for this size box!
They are absolutely wonderful for after mealtime clean-ups.  The save on paper towels and napkins and are so much softer on little faces.
Now, wouldn't you know it but I ran out of bum wipes one day and was desperate so I dubiously grabbed the box of Bummas so I could change Little Brother's dirty diaper.  Wow!  I was so wrong!  Despite their small size these clean up better that either my flannel and my hemp wipes.  The terry does such a good job of cleaning up you'll rarely need to use more than one.  And did I mention how soft they are???  I can feel good about cleaning up Little Brother's bum with these bad boys.
Bummas come in packs of 10 and can be purchased at Bummas.com or from Amazon.com
. I'd recommend purchasing them from Amazon as they are $5 cheaper.
Disclosure: I was provided with a set of wipes by Bummas, at no cost to me, in order to facilitate the review.  The opinions expressed are honest and entirely my own.